Wildfire Insurgency, Fortresses, and Stalemate
Where to even begin...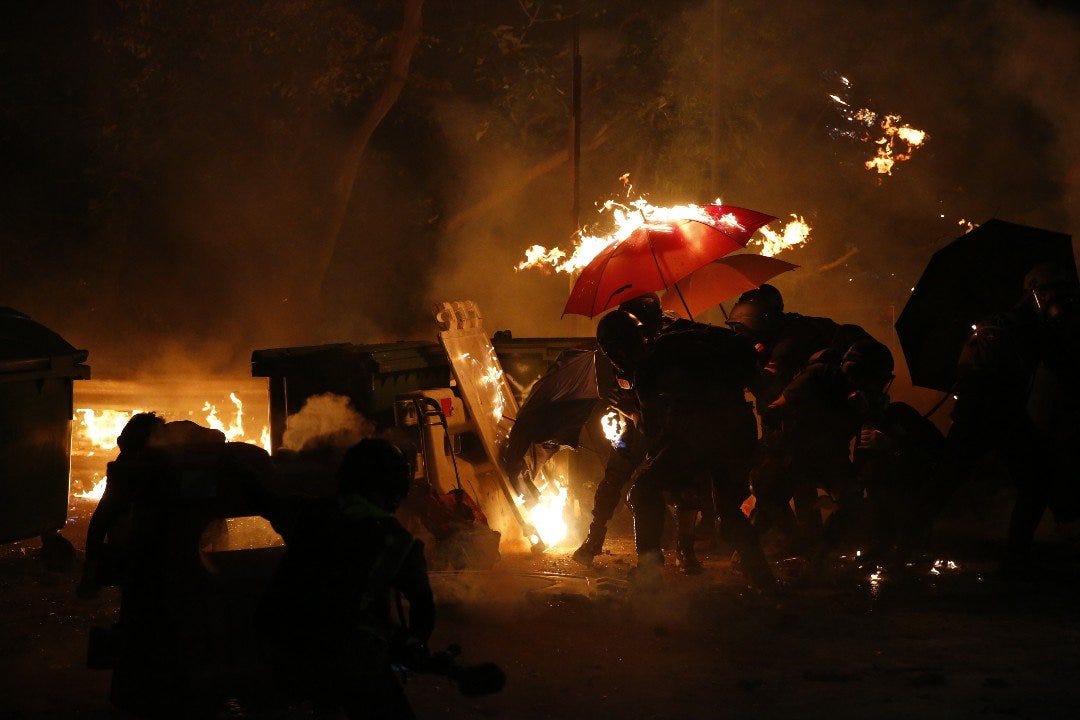 [note: as I did last time, I'll send the email first and add links by tomorrow. I'll also add photo credits.]
Do you remember that ill-defined moment, sometime between 2015 and 2016, when Donald Trump invaded everyone's attention span and the news cycle rapidly shrunk from the original 24 hours to 12 hours? Then scandals that became meta-references to earlier outrages and the news cycle shrunk to hours? That's the best parallel I can think for what's been happening in Hong Kong over the past two weeks. It used to take me about four hours to write up a recap of about three days. If I kept to the old format I'd need to send a 'recap' out once or twice a day.

I'll start with what's going on as I started writing this (my 4th or 5th attempt) and try my best to explain how we got here. Students have been ripping apart their universities for bricks and barricade materials to turn their campuses into fortresses for three days now. Expecting an imminent police assault that hasn't arrived since police retreated from CUHK on Tuesday night, they've spent their time practicing throwing molotov into swimming pools and sports fields. Alumni and citizens have stockpiled food and supplies inside, so much that CUHK says they're full. There are molotovs stockpiled in the open all across my alma mater. Above one cache is a recipe for "napalm-ish" brew.
Wednesday night their barricading of the entrances expanded to the streets around the campus. The Tolo Highway outside CUHK is blocked, as is Pok Fu Lam Road and Bonham Street outside HKU. Outside PolyU the Cross Harbour Tunnel that takes almost half of all traffic between Kowloon and Hong Kong Island has been blocked since Wednesday night. Someone torched the toll booths last night and cops are nowhere to be seen. The tunnel has been blocked maybe ten times over the past five months, but protesters usually left within ten minutes fearing both exposure to cops and turning public opinion against them. As I'll explain, neither seems to be particular worry right now.
---
The Battle of CUHK Bridge No. 2
The most likely explanation for why cops haven't shown up is that they suffered a spectacular defeat at Bridge Number 2 outside CUHK on Tuesday night. Tuesday was the second straight day that saw students and cops clashed at university campuses around Hong Kong. On Monday, for the first time, cops gassed outside HKU and charged inside. They did the same at several universities at roughly 8:am on Tuesday morning. Like everything else, I don't know where to begin…

I'll get to 'why' later, but protesters had launched what they called Operation Dawn. The TL;DR is that - for a lot of reasons, including job security - general strikes are difficult in Hong Kong. When a second strike was announced, I briefly realized (then forgot) what was going to happen: paralyze transportation across the city. Classes were suspended, so many students took to doing this in their own backyard.
CUHK, like most universities in Hong Kong, is built into a mountainside. The way the city developed over time means many of them are next to critical transportation spots. I'm fairly certain CUHK students dropped things on the rail tracks to shut the New Territories MTR transit down. They would have done this from Bridge Number Two at about 7:30 am for 'Operation Dawn.' At 8:00 am, cops showed up at the entrances (there are many) of every major Hong Kong university.
It's very difficult to reconstruct the sequence of events, but by 8:30 a.m. there was a student barricade across from an HKPF cordon line at that bridge. There was a standoff nearly the entire day with faculty trying to mediate. At around 3 pm cops decided that the frontline barricade inside couldn't stand. They raised a black flag and for 15 minutes cops and students exchanged bricks and rubber bullets without moving an inch on either side. Students eventually retreated a bit and cops entered the campus and fired tear gas on the sports yard.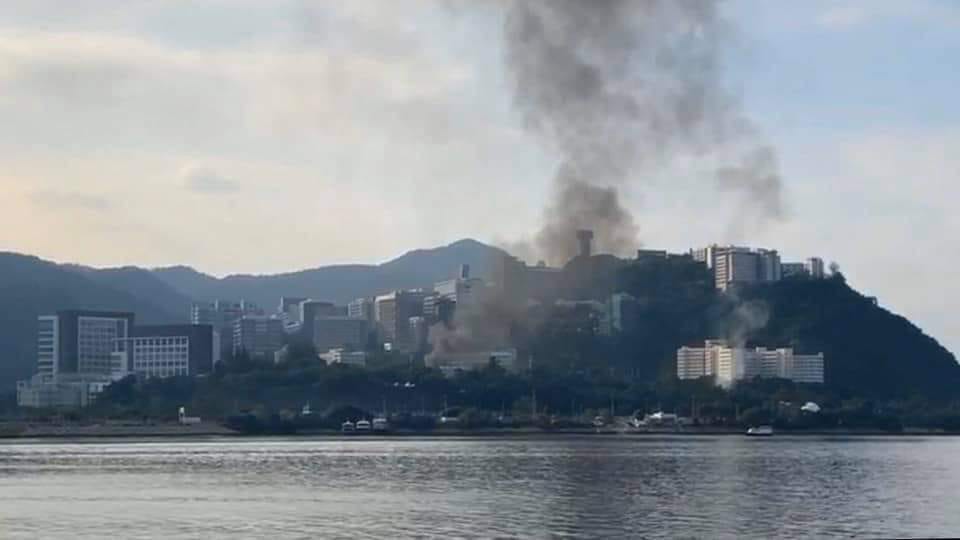 People, mostly alumni, poured in from all over the city to prepare for a battle at CUHK. Vice-Chancellor Rocky Chuan was walking back to the police line during a negotiation to end the standoff when police fired first and molotovs started flying over his head. For the next two hours, cops fired about 1400 rounds of tear gas and about 1200 rubber bullets into the entrance of CUHK. That's equal to the amount to the first two months of gassing combined, or about 20% of all of the tear gas fired up to that date. Put another way: they were shooting rubber bullets and tear gas at a rate of one shot every five seconds for two hours.

And they lost. Students pushed the police back to the other side of the bridge. Police returned with a water cannon truck. Police retreated at about 10:30 pm and a cemented wall barricade went up at the far side of Bridge Number 2. Clashes and barricades broke out across the city as 'diversions' to distract HKPF both during their assault and after they left. Everyone thought they would come back later in the night, which is why and when CUHK and other universities started transforming into fortresses. By the following night, the roads around the schools had also been barricaded with cemented brick walls.
---


The Tipping Point Into a Wildfire Insurgency

For the fifth day in a row, Central has been transformed into a protest site at around noon where, once again, it filled with white-collar office workers mixing about 10:1 with people dressed more obviously as protesters. On Tuesday my wife was gassed leaving the gym in Central. On Wednesday I watched a baton charge into Exchange Square (in front of IFC Mall) where an office worker was clubbed on the head so hard that he fell over unconscious in a pool of blood. As people jeered, the camera panned to show 3-5 other office workers tied up next to a pizza shop.
This wasn't on a street. It wasn't near vandalism targetting a Chinese bank that happened a few minutes early. So far as I could tell, their 'crime' was chanting "five demands, not one less!" in English from a pedestrian walkway. Coinciding with Xi's CCP Plenum, the escalation started with declaring a Halloween Party in Lan Kwai Fang, a famous bar district in Central, an illegal assembly. It was also the anniversary of a police attack on Prince Edward MTR station, so things 'kicked off' there too. They pepper-sprayed a man asking where their cordon was at point-blank range. Saturday, the next day, is when the mass arbitrary arrests began. It was also the first time my wife was gassed as a passerby - an experience I heard from several people.
They've also raided malls across the city for two weekends in a row. Watching riot police storm malls, fire rubber bullets inside, pepper spray journalists below them from boardwalks, wave shotguns up at shoppers, and arrest people seemingly at random was shocking for a people desensitized to police brutality. As best as we can tell there was nothing going on inside most of these malls that would have warranted invasions like this.
The mall raids crystalized something everyone felt but still have trouble putting into words: this was a new tactic to enforce an unofficial curfew; stay home on weekends or expect arbitrary arrest, pepper spray, or tear gas exposure. Stop what you're doing and flee when you see Green Objects appear anywhere near you. Cops are also shutting down every place of refuge - from residential estates, McDonald's, to churches. It is now uncommon to still see them shamed out by a mob of angry residents when they try to enter their estates.
Two things happened the first night of the mall raids, November 3rd, that transformed a protest movement into an insurgency wildfire. First, was a 'stochastic terrorism' incident where a man knifed four people and bit the ear off a District Councilor while police were raiding the mall. A few hours after that Alex Chow fell to his death under mysterious circumstances during a police clearance operation. While it likely wasn't the cause, people initially suspected he fell escaping from tear gas because police were firing it indiscriminately into the upper floors of the mall. The gassing had gotten so bad, people assume, cops finally murdered someone trying to get away from it.

He died on a Friday. There were calls for another General Strike the following Monday - this Monday. An officer shot two protesters in the first hours of Operation Dawn. The 'action' lasted for something like fifteen hours straight: tear gas, beatings, arrests - actually the most arrests of any single day. That's also when police first showed up outside the universities. It's also when office workers in Central came down and barricaded the district up on their lunch hour and formed human chains to pass bricks black bloc frontliners were digging up. Tuesday was almost the same but culminated in the Battle of Bridge No. 2.
---
Stalemate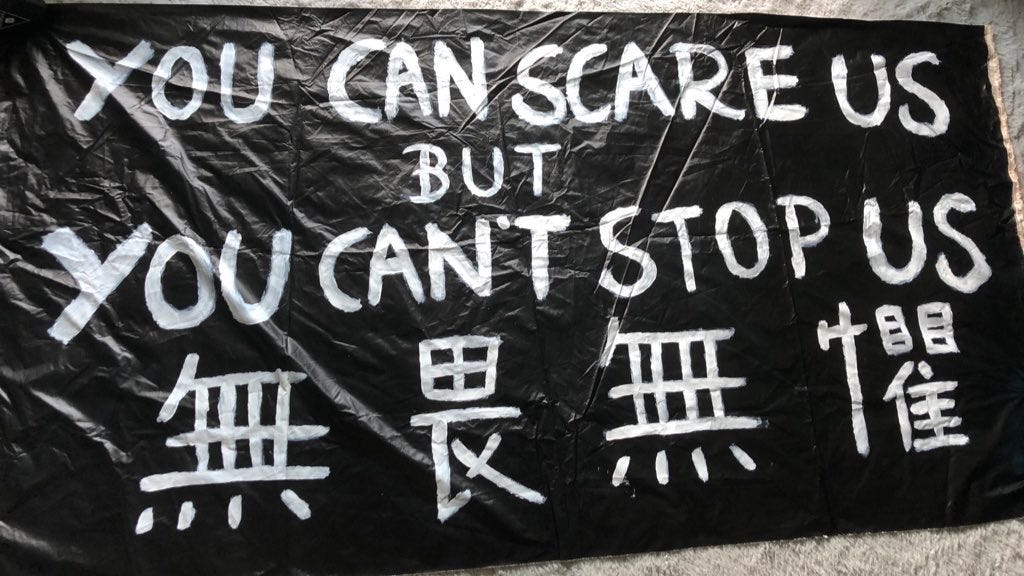 You can also note the change in mood from the slogans and graffiti used. "Hong Kongers, Keep Going!" became "Hong Kongers, Resist!" after the mask ban was introduced in early October. After Alex Chow's death, then the two shootings, "Hong Kongers, Revenge!" has now taken hold. But you can also see it in the office workers showing up in Central every day to get gassed and beaten for chanting slogans. The once clearly defined lines between 'peacenik' woleifei protesters and yungmo 'frontliners' have almost disappeared alongside marches. Anyone coming out now is either expecting a clash or taunting police to try dispersing them again.
The Central lunch-hour protests spread to Tai Koo on Wednesday. By Friday it spread to the south of the island at Hong Chuk Hong. What kept happening in Central and so many other places is that cops would launch a clearance operation, take away their human haul of prisoners after some gas and beatings, and then barricades would go up again the moment they left. They put everything they had into making CUHK students scatter but wound up retreating even after deploying their water cannon.
Tear gas landed in a schoolyard on Monday. The government announced classes would be canceled on Wednesday, the same day universities announced an early end to the 2019 Fall Semester. Despite Lam saying school closures would be an unthinkable surrender to protesters, traffic disruptions were so severe that teachers and students were showing up hours late. More importantly, they couldn't guarantee children wouldn't be caught in riot police crossfire on their way to and from school.
For the past two days, riot cops are either not showing up or only make cursory appearances before disappearing again. Maybe it's a strategy to let the vandalism, arson, and traffic disruptions make public opinion turn against protesters and students. If so, it doesn't appear to be working. It seems more likely HKPF is simply exhausted after five months of this were capped off with five days FORMOB 12-hour shifts and deployments that are increasingly ineffective against this wildfire insurgency.

The feeling waxes and wanes, but it's felt like we're at some type of tipping point since Wednesday. What's happening right now is simply unsustainable. Either the government acknowledges everything they've tried has failed and they set a new course or things are about to get a lot worse. For the third time in the past five months, it seems like this would be the time PLA or PAP intervenes if that's a card Beijing is willing to play. I don't see how they could get inside these Fortress Universities without using live ammo if they don't want to wait out the students barricaded inside.
Things are so unpredictable that the universities might be abandoned as soon as I hit 'send.' Only a fool would make predictions.