Wednesday, Oct 30th
Joshua Wong and Carrie Lam, Protest Updates, and HK's Press Rebels
In the space of a few hours on Tuesday, new polling numbers came out showing Lam's approval rating is nearing single digits, and Joshua Wong was disqualified from running for District Council. The stated reason for Joshua Wong's disqualification was over Demosistō's advocacy of self-determination, which an election official decided was incompatible with the Basic Law. Demosistō doesn't mean 'self-determination' the way the government is saying they do or the way the term is usually used (i.e., the creation of an independent nation-state). They mean it precisely the way HKEx's CEO used it today: a democracy by, of, and for Hong Kongers. I write about it a bit more here. Put simply though, what is delf-determination if not the ability to remove leadership only 1 in 10 citizens has any confidence in?
On the DQ itself: The arguments used were bad, there isn't a lot of faith in HK courts right now, counter-protesters turned out to call him a "race traitor," and the Hong Kong and Macau Affairs Office said his DQ "ensures the seriousness and fairness." On how Lam is going forward:
Today's Rubber Bullets & Resistance:
---
What to Expect Tomorrow
Tomorrow, October 31, is both Halloween and the anniversary of [whatever the hell happened] at Prince Edward MTR on August 31st.
---
Protest Updates
Sunday's Kowloon Protest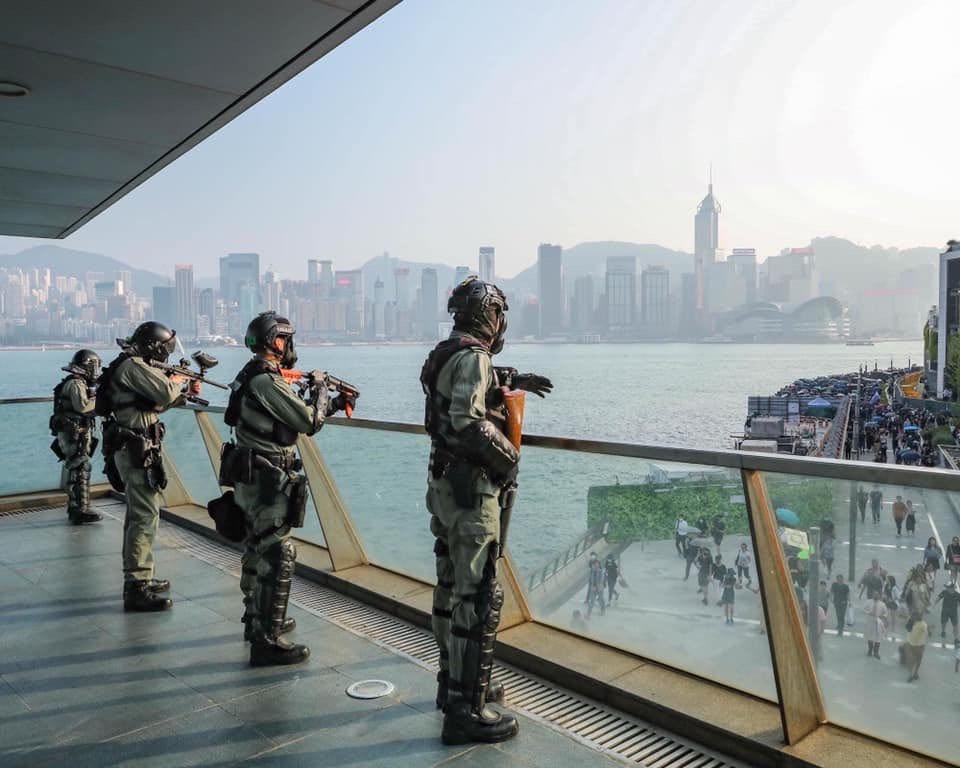 Last Friday I predicted that this weekend would be relatively uneventful compared to the previous Sunday. On one hand, this seems true in that I think the turnout was probably less than half – and yet somewhere between 50-100k people turned up in Tsim Sha Tsui for little other reason than it was a Sunday and things remain unresolved and bad. "See you next weekend" graffiti in Mong Kok proved true.
You can read a short thread of my experience here. Towards the end of the night, I got locked inside a pharmacy while buying more N95 marks when the shutters went down. I saw a baby suffering from tear gas exposure when I walked out. This is what happened to the other people in my small group after we got split up.
Tuen Mun Citizens Complain About Gas; Get Gassed
Everyone from parents to animals shelters complained about a tear gassy smell and associated symptoms on Monday. They came out to complain, police denied they were testing tear gas, so promptly gassed them. At least one round of gas landed inside a commercial residence.
They're at it again as I write this. Police are pepper spraying random residents, stormed a restaurant and arrested the staff, and are now trying to get inside an apartment complex. [follow-up: as many as 40 people have been arrested tonight]


Press Revolt
I mentioned in the last update that the attacks on the press are now relentless and brazen. Freelance journalists Amy Ip led a media walk-out of the Monday HKPF press briefing. Among the complaints was an SCMP reporter shot in the foot, an RTHK reporter who had his mask taken off and accused of holding a brick and the use of 'flashlights' police shine at the press and protesters that are actually lasers.
---
Follow Up / Etcetera
At Emerson [University], Ms. Hui said an administrator had reached out to make sure she felt safe. But when she requested a public statement condemning the threats against her, none came."